Safety Eyebolts and Single Point Anchors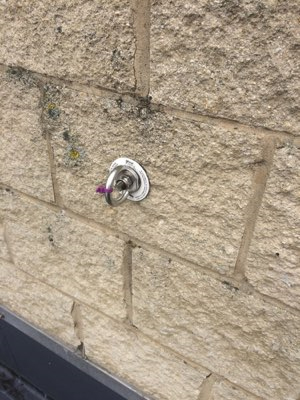 Safety Eyebolts and Anchorage Points can be found on a wide range of buildings to provide safe working access for a variety of services. Safety Eyebolts are designed to be used by a single user in a fall arrest or fall restraint scenario. All of our Safety Eyebolts and Abseil Anchorage Points are installed and tested in accordance with BS EN 795 and BSEN 7883. It is required that testing is carried out on an annual basis. Class A1 categorised anchor points require testing in accordance with BS EN 795 standards and the testing frequency is increased to every 6 months.
In addition to the testing of the anchorage points or eyebolts, our qualified engineers will also identify any damage that may have occurred and can also perform preventative maintenance on the equipment to ensure its longevity.
Types of eyebolts and anchorage points;
Abseil Anchor Points
Christmas Decoration Anchors
Fixed Safety Eyebolts
Removable Safety Eyebolts
Pushlock Eyebolts
Single Point Anchors
If you identify any of the following issues between your annual test and inspection please do not hesitate to call us;
Loose Eyebolts
Corrosion to the Eyebolt
Damage to the Eyebolt
Damage to the area which the eyebolt is fixed too
If your system has not been compliance tested by a competent person or has failed an inspection within a 12 month period, they should be tagged strictly DO NOT USE.
​