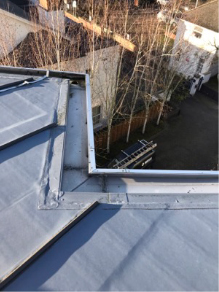 Roodsafe offer full gutter cleaning services to help unblock downpipes, drains, fix any leaks and also carry out comprehensive cleaning to prevent any potential water ingress into the buildings. These services can be offered on any commercial, industrial, private and retail roofs across the country, with access solutions available if required. In order to provide our clients with a cost effective and time saving solution, these works can be carried out in conjunction with any height safety equipment testing that may be required on site, meaning only one site visit is necessary.
Roodsafe engineers carry out a before and after report on all works, which is then provided to the client to provide them with peace of mind that they have received a high quality service and their expectations have been reached.
Roodsafe's company policy requires all works to be carried out by trained and professional two man teams, who hold all the relevant height safety qualifications to ensure that all works are carried out in accordance with HSE regulations.
​